*-*!★
ASHGDASFDHGASF *-* *-*
Mori, first came out, here he is!
The new trailer of the prince.
"Years ago I knew a child I take all the wrong choices.
"He seemed like any other student.
"His name, Tom Riddle.
"Today the world knows him by another name. Voldemort.
-This memory is everything.
-This memory is a different kind of magic, very dark, very powerful.
"Without this we are blind.
"But as we leave the fate of the world to chance?
(HARRY!)
"You have no other choice.
"You must not fail.
(Fight coward!)
"Once more I ask much of you Harry
translated into English: Mizher
......................... .......
Asdghfsjd, Yuuko; _; if something happens, lose my faith in the cookies .. amm salty? xD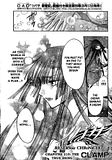 Next week there will be no tsubasa D:
I emferma, die, bye. I