WHAT THE..!
Vampire Knight # 45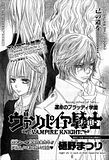 OMFG! OMFG!
What the hell WAS that! .______.
The transvestite president of the association of hunters .. whaada faaack! D: Cross
<3 y Juri Kuran(!!?) asdfhgsdad ._.
Kaien Kaien *-* Love at the Zero
go wild xD *-*
kill Kaname Mori, that was as much D: Now I reread more quietly.
And Twilight in the night ..